The Krugerrand
The Krugerrand is the world's most widely held and actively-traded gold bullion coin. It was developed in the 1960s by the Minerals Council South Africa (Minerals Council), working closely with the South African Reserve Bank and the South African Mint.
The Krugerrand was the world's first ounce denominated gold coin. Although Krugerrands are actually legal tender, their value has never been displayed on the coin. This is because the value of each coin is linked to the prevailing gold price.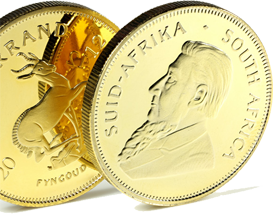 The first 22 karat gold Krugerrand was minted on 3 July 1967. Since that time more than 60 million Krugerrands in all sizes have been minted.
In 1980, the fractional Krugerrands (½oz, ¼oz and 1⁄10oz) were added to the 1oz Krugerrand so the smaller buyer could buy gold at an affordable price. Unusual for gold coins at the time, the Krugerrand could be converted into any currency. The Krugerrand was the first legal tender gold bullion coin to gain worldwide use in the modern era.