People of gold
Employee profile
Although employment in South Africa's gold mining industry has continued to decline since the 1980s, the industry still employs some 95,000 people.
Gold mining activities remain a mainstay of employment in many communities around the country, and it is estimated that every employee in the gold sector supports between five and 10 dependants.
The employee profile of the gold mining industry is changing to reflect the demographics of South Africa. The 2004 Mining Charter provided a framework for the entry, at all levels, of historically disadvantaged South Africans into the industry, including women.
The Department of Mineral Resources (DMR) and gold mining companies encourage women to be active at all levels in the industry. The Mining Charter originally set a target of 10% for women in core mining jobs and by 2018 overall representation had reached 12%. AngloGold Ashanti, Gold Fields, Harmony and Sibanye have all achieved this target.
Along with transformation of the employee profile, the migrant labour system is also changing. South Africa's gold mining industry has always relied on migrant labour from other South African provinces and neighbouring countries to supply labour in its often remote locations. This did and can result in the separation of families, often for extended periods of time, which in turn can lead to social issues and the placing of huge responsibility on the women left behind. The industry is seeking to provide a more stable environment for its migrant workers.
In the past, migrant workers were accommodated in barrack-style hostels. The large South African gold producers have made significant progress in upgrading hostels and converting them to single accommodation units as well as providing family accommodation units and promoting home ownership options.
The industry is also exploring alternatives to current labour practices and shift cycles, which would enable employees to return home more frequently and for longer periods.
---
Key figures in the South African gold mining industry
The people of mapungubwe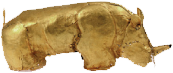 One thousand years ago, Mapungubwe in South Africa's Limpopo province was the centre of the largest kingdom in the subcontinent, where a highly sophisticated people traded gold and ivory with China, India and Egypt from around 1200 to 1300. The Mapungubwe people were ancestors of the Shona people of Zimbabwe and grew to a population of around 5,000.
The Mapungubwe site was discovered in 1932 and a rich collection of artifacts made of gold and other materials, as well as human remains, were uncovered. The most spectacular of the gold discoveries is a little gold rhinoceros, made of gold foil and tacked with minute pins around a wooden core.
---
George Harrison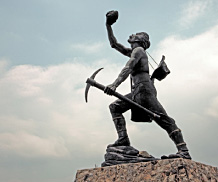 In 1886, Harrison discovered the main reef of gold-bearing conglomerate on Langlaagte Farm near Johannesburg. It did not take long for fortune-seekers from all over the world to flock to the area though it would become apparent that considerable capital was required to develop deep underground mines.
---
Cecil John Rhodes, Afred Beit, Barney Barnato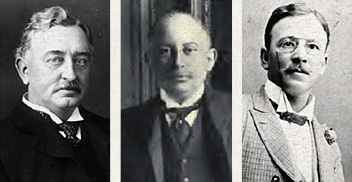 Rhodes, Beit and Barnato were entrepreneurs ready, willing and able to develop the fledgling South African gold mining industry. The discovery of diamonds at Kimberley in 1871 had already attracted substantial capital from British and European banks to finance the emerging diamond mining houses created by these 'Randlords', who eventually united to form De Beers Consolidated Mines.
Rhodes founded Gold Fields of South Africa in 1887. By 1933, seven mining houses had been established and provided the foundations of the South African gold industry which has been described as the 'flywheel' of the country's expansion.
---
Sir Ernest Oppenheimer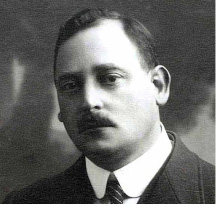 Oppenheimer was the co-founder of the Anglo American Corporation with JP Morgan in 1917. He had foreseen the potential in investing in gold mining on South Africa's East Rand and raised £1 million of capital from sources in the UK and the United States, hence the company name.
---
Nelson Mandela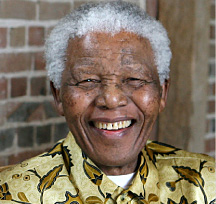 Much has been written and said about Mandela's life, especially as an anti-apartheid freedom fighter, prisoner, politician and statesman. However, it is not common knowledge that, as a young man of 22, he worked, albeit for a brief period in 1941, on one of Johannesburg's most iconic mining operations, Crown Mines, on the Central Rand.
---
James Motlatsi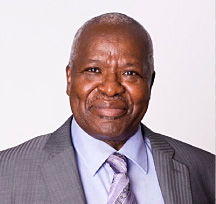 Motlatsi entered the mining industry in 1970 and soon became a personnel officer at an Anglo American gold mine in the Free State. He was the founding president of the National Union of Mineworkers (NUM) from 1982. After stepping down from the post, he served as a non-executive director, mostly as deputy chairman, at AngloGold Ashanti from 1998 – 2011. His company acquired TEBA of which he is executive chairman. He is currently also chairman of Platfields Limited.
---
Gwede Mantashe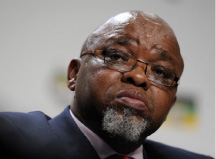 Long-time trade unionist Mantashe served for 10 years as general secretary of the NUM from 1997 before becoming secretary general of the ANC in 2007 where he is serving a second five year term. He made history by becoming the first trade unionist to be appointed to the board of directors of a JSE listed company, Samancor, in 1995. He is now Minister of Mineral Resources.
---
Cyril Ramaphosa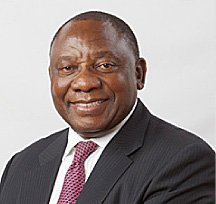 Ramaphosa is President of South Africa and of its ruling party. He was the founding general secretary of the NUM in 1982. Originally a law student and, along with the NUM's first union federation, linked to the black consciousness movement, he became part of the ANC's congress movement when he was instrumental in the founding of COSATU in 1985. He led a three week gold mining wage strike of 250,000 workers in 1987. He was elected secretary general of the ANC in 2002, and led the constitutional negotiations for the ANC. He entered the business world in 1997 after failing to be elected to succeed Nelson Mandela as ANC president, and returned to politics in 2012.
---
Patrice Motsepe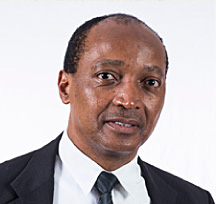 Motsepe is a South African mining magnate. He is the founder and executive chairman of African Rainbow Minerals (ARM), which has interests in gold, ferrous metals, base metals, and platinum. He is also the non-executive chairman of Harmony Gold.
In 1994, Motsepe became the first black lawyer to be made a partner at the law firm Bowman Gilfillan, where he specialised in mining and business law before shifting to the mining industry. He started a contract mining operation called Future Mining which provided various services to Vaal Reefs gold mine. Unable to secure a loan, he ran his business from a briefcase for the first eight months. Motsepe formed ARM in 1997 and the rest is history.